With Maxima Kitchen Equipment it is possible to save for extra discount! So you do not already get the lowest prices, but you will have an even better deal with this program!
How do I save points?
To begin with, you must have an account. This account is not only used to save points or discounts but can also be used to process the payment more quickly, store multiple addresses, view your orders and much more!
If you already have an account, you only need to log in. To create an account, click on "Login" at the top of the page to log in or create an "Account". After that, it is a matter of following the steps.
How do I earn points?
When your account has been created and you log in, you will immediately receive the first 220 points for registering and visiting the website. When you click on the red "Maxima Discount Program" button, the menu opens. The menu shows how you can save points and how you can use them, but also how many points you have already saved!
Under the heading "Earn points" you will find three possibilities to earn points, these points will be added to your account when completing the action, keep in mind that this can be delayed by a few minutes. In the case of an order, there will be a few days between the completion of the order and the receipt of the points. This has to do with preventing fraud with loyalty points.
Under the heading "Get rewards" there are possibilities to pay with points for a discount but also the possibility to earn even more points.
Carry out the action as stated in the various activities and then press "Get discount". You are asked to redeem 1 point, in this way we get a notification that someone has completed an action, after which we check it and pay out the points (including the 1 point that you exchanged). 
This way you can easily earn extra discount by writing a nice review or liking us on social media.
Action overview
Below is a list of different ways to earn points and how often you can use them.
| | | |
| --- | --- | --- |
| Action | Points | Frequency |
| Create an account | 200 | One-time |
| Visit the website | 20 | 1 time per day |
| Recommend us | 1000 | No limit |
| Make a purchase | 2 per € 1 | No limit |
| Facebook like | 200 | One-time |
| Facebook review | 200 | One-time |
| Product review | 500 | Per review |
| Company review | 500 | 1 time per 3 months |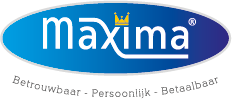 What can I buy with my points?
The value of 1 point is equal to 1 cent. You can submit your points for a number of specific amounts:
€ 5 (500 points), € 10 (1,000), € 15 (1,500), € 20 (2,000), € 25 (2,500), € 50 (5,000) and € 100 (10,000).
When you exchange your points, you will receive a discount code that you can use at any time.
Questions, ideas or problems
If you have a question, a good idea or problems with the Maxima Discount Program, you can send an email to: Marketing@maximaholland.com attn. Maxima Discount Program. In this e-mail: please mention your name, the e-mail address you use and your question, idea, or problem.
We will respond to your mail as soon as possible.