Posted on
By Maxima Kitchen Equipment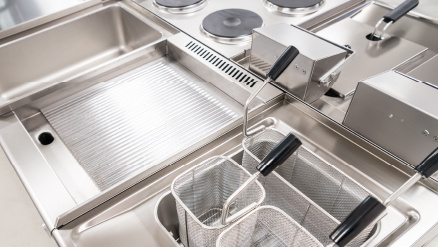 RVS is een veelvoorkomend materiaal in een professionele keuken. En hoewel er wordt gedacht dat RVS onderhoudsvrij is en niet kan roesten, is het schoonhouden en onderhoud erg belangrijk voor langdurig gebruiksplezier en levensduur. Hieronder lees je welke punten belangrijk zijn voor mooi en goed onderhouden RVS.
Gereedschap
Het juiste gereedschap maakt een enorm verschil. Door gebruik te maken van plastic of houten gereedschap, zachte doeken en sponsjes verminder je de kans op krassen en beschadiging.
Krassen behandelen
Zijn er krasjes te zien op het RVS, behandel deze dan altijd in de slijprichting/nerf mee. Bij lichte krasjes kun je gebruik maken van whitening tandpasta op een microvezel doekje. Heeft dit niet gewerkt? Dan kun je gebruik maken van een schuurvlies.
Reiniging
Er zijn een hoop schoonmaakmiddelen verkrijgbaar, maar je hoeft deze niet direct te gebruiken. In eerste instantie is water met een sopje namelijk meer dan voldoende. Heb je last van aangekoekte etensresten op bijvoorbeeld je werktafels? Dit kun je gemakkelijk met wat baking soda en azijn verwijderen. Hierbij is het belangrijk om altijd met de nerf van het RVS mee te werken. Wil je wel liever een reinigingsmiddel gebruiken? Let er dan op dat daar geen agressieve middelen of zuren in zitten. Producten als bleekmiddel, chloor, gootsteenontstopper, zoutzuur en zilverpoets zorgen voor een onherstelbare beschadiging van de toplaag, waardoor er alsnog roest kan ontstaan. Ook olie is geen geschikt reinigingsmiddel voor RVS. Natuurlijk ziet het er prachtig uit als RVS glanst, alleen zorgt de olie niet dat het oppervlak hygiënisch gereinigd wordt.  
Water
Het gebruik van water op RVS is uiteraard geen enkel probleem. Merk je dat er waterafzetting op jouw RVS apparaten ontstaat, kun je kiezen het water te ontharden door middel van bijvoorbeeld een filter. Ligt er regelmatig water op het RVS oppervlak? Laat dit dan niet staan, maar veeg het weg. Helemaal als het ook schoonmaakmiddelen bevat, kan er toch corrosie ontstaan.