Posted on
By Maxima Kitchen Equipment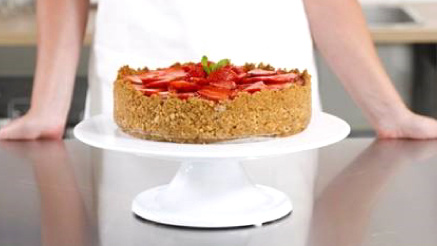 Spring is never far away with this sweet and fresh sour combination of strawberries and rhubarb. Light and tasty, and easy to make. A rhubarb-strawberry cheesecake sounds as good as it tastes!
Watch the video of this recipe at the bottom of this page, or watch it here on our YouTube channel.
Necessities
(Maxima Extreme Power) Blender
Cutting board
Spring form Ø 20 cm
Scale
Measuring spoon set
Measuring cup 1 litre
Baking spray
Baking paper
GN container
Aluminium foil
Kitchenware
Oven
Saucepan 18 cm
Step 1: Pie crust
Ingredients
250 gr plant based butter
400 gr vegan coconut cookies
Preparation
1. Preheat the oven to 170 degrees.
2. Slowly melt the butter in a saucepan.
3. Meanwhile, put the coconut cookies in the blender to grind them fine. Then add the crushed biscuits to the butter in the saucepan.
4. Stir the biscuits and the butter together until you have a nice structure to make the pie crust.
5. Spoon the filling on the bottom and press it with the spoon against the bottom and the edge so that you get a firm and smooth shape.
6. Fold aluminum foil around the baking tin and bake it for 15 minutes in the middle of the oven at 170 degrees.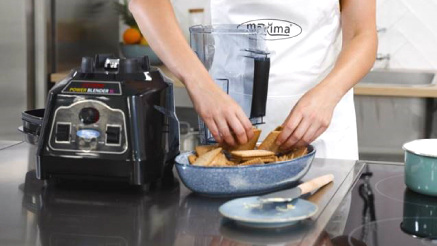 Step 2: Filling
Ingredients
360 gr vegan cream cheese
400 ml unsweetened coconut milk
Juice of 2 squeezed limes
200 gr unrefined cane sugar
Pinch of salt
65 gr almond flour
5 tbsp flour
5 tbsp cornflour
1 tbsp vanilla extract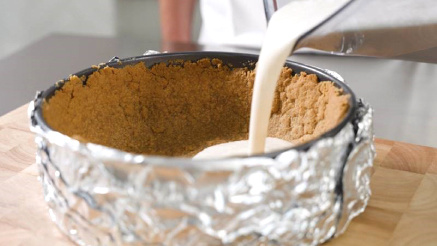 Preparation
1. All ingredients listed above may be mixed in the blender.
2. Remove the pie crust from the oven and fill it with the cream cheese mixture from the blender.
3. Place the cake in an oven dish or GN container with a layer of water and place it at the bottom of a preheated oven at 170 degrees for one hour.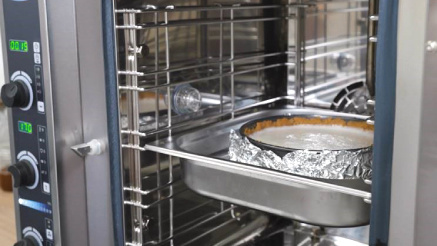 Step 3: Strawberry-rhubarb sauce
Ingredients
150 gr strawberries
300 gr rhubarb
50 gr unrefined cane sugar
½ lime
2 tbsp water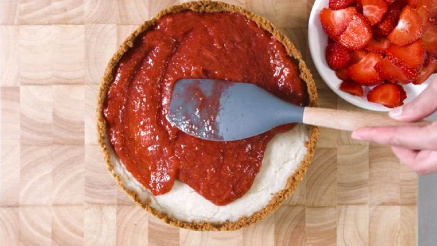 Preparation
1. Place the rhubarb and half of the strawberries in a saucepan and add water, cane sugar and the juice of half a lime.
Let it simmer for 10 to 15 minutes. Stir occasionally.
2. Remove the cake from the oven and let it cool in the fridge for at least 2 hours.
3. Divide the strawberry-rhubarb sauce over the cake.
4. Finish by covering it with strawberry slices.