Posted on
By Maxima Kitchen Equipment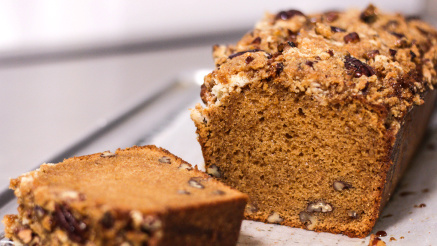 A tasty snack with coffee or tea: cake with pecan nuts and a crumble topping. A simple recipe full of flavor that you can easily prepare in a convection oven.
Give your cake a summery touch
To make this tasty cake you only need a cake tin, a mixer and a good convection oven. The addition of a crumble topping creates a crunchy top, giving this dish that little bit extra. Give it a summery touch by pouring a splash of pancake sy!
Necessities
cake tin
baking paper
mixer
convection oven
Ingredients
For the cake:
150 grams of white sugar
150 grams of brown sugar
200 grams of butter at room temperature
4 eggs
300 grams of flour
7 grams of baking powder
1 pinch of salt
50 grams of pecans
100 grams of maple syrup
For the crumble:
25 grams of cold butter
25 grams of sugar
50 grams of flour
50 grams of chopped pecans, plus extra's for garnish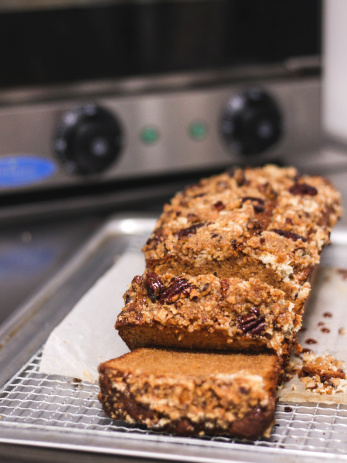 Preparation
1. Grease the cake tin and line the inside with baking paper so that you can easily take the cake out later.
2. Preheat the oven to 160ºC.
3. Put the butter and sugar in a bowl and mix until creamy and pale of color.
4. Add the eggs one by one and stir well.
5. Sift the flour and baking powder and stir this together with a pinch of salt and the pecans into the batter.
6. Divide the batter over the cake tin.
7. Mix all the ingredients for the crumble and place on top of the cake batter.
8. Place the cake tin in the oven for 50 minutes. Check with a toothpick if the cake is done. If no crumbs stick to the toothpick, your dish is ready to be removed from the convection oven.
9. Remove the cake from the tin while it is still warm and immediately pour the maple syrup over the cake.
Let it cool down and enjoy!