Posted on
By Maxima Kitchen Equipment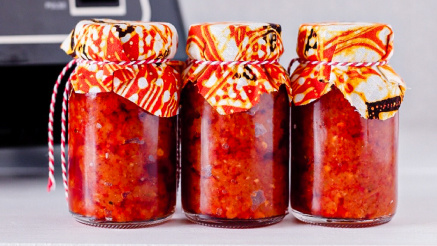 Do you also love oriental cuisine? This delicious sambal badjak can be made in a blender in no time at all. Use this fried sambal as a base in many dishes, such as sauces, meat dishes and gravy. It is so easy to make!
Difference between sambal badjak and sambal oelek
Not all sambals are alike! Sambal can be used to flavour your dishes. The most well known sambal is sambal oelek. Sambal badjak is a fried sambal which is excellent as a side dish. It is useful if you want to add some extra spice to your meal. Eat it with fried rice or with fried eggs.
Sambal badjak - as you like it
By combining sambal badjak with prawn crackers, tomato, cucumber or onion you create different varieties. Exactly how you like it. The more smaller chillies, the spicier your dish. Add a little extra pepper until you reach the desired sharpness. Not a fan of spicy sambal? Then add fewer rawit chillies and more sugar. Because this version is not too spicy, you can use it as a basic recipe. In this way, you can easily make a hotter or sweeter option.
Big portions with the blender - quickly
The ideal way to make sambal is with a blender, such as the Maxima Extreme Power Blender XL. The blender jug is heat resistant so you can put hot ingredients into the blender to blend them. Use a variable speed blender so you can give your sambal the right texture. The longer you blend, the finer the mixture. Do you prefer a coarse sambal? Then don't mix the ingredients for long. Because this blender has a large 2,5 litre jug, you can easily make large portions to keep or give away to friends and family.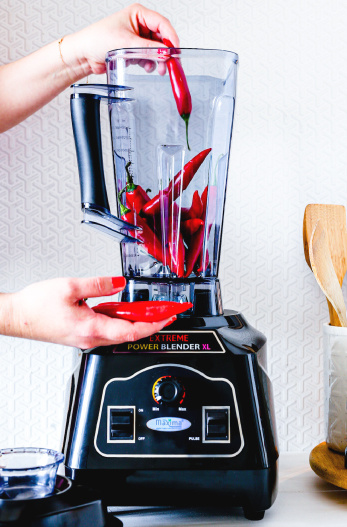 Equipment
Knife and chopping board
Saucepan
Blender
2 sterilised jars with lids
Ingredients
2 jars of sambal
5 red pepper
3 small rawit peppers
3 roma tomatoes
1 onion
3 garlic cloves
10ml sunflower oil
1tsp terasi bakar
60ml sunflower oil
2cm laos, cut into slices
2 salam leaf
1 stalk lemongrass
1 level tsp tamarind
100ml water
1tsp salt
1tbsp sugar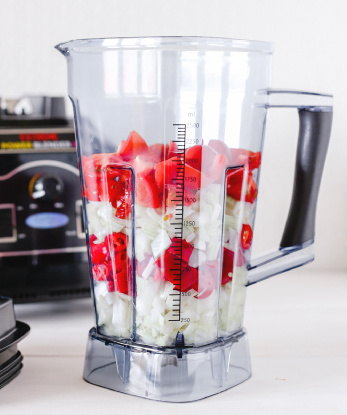 Preparation method
This delicious sambal badjak is very simple to make. All you need is a pan, a powerful blender and, of course, the ingredients mentioned above.
1. Start by coarsely chopping the red chilli peppers, the small rawit peppers, the roma tomatoes, the garlic and the onion.
2. Heat 10ml of sunflower oil in a pan and fry the ingredients together with the terasi bakar.
3 .Prepare the blender and put the mixture in the blender after you have fried everything. Blend until you have the desired texture.
4. Take the pan and heat it again with 60ml of sunflower oil in it.
5. Quickly fry the laos, salam and lemongrass for a short time.
6. Then take the pepper and tomato mixture out of the blender and add it to the pan.
7. Finally, add the tamarind, water, salt and sugar, and stir well.
Don't forget to taste the sambal and season if necessary.
Now that your sambal badjak is ready, you can divide it between two sterilised jars and use it as a side dish or a condiment!