Posted on
By Maxima Kitchen Equipment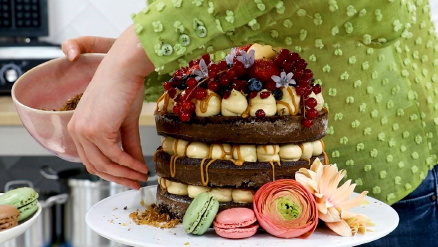 No special occasion is needed for a chocolate cake. The delicious cake you make with this recipe will automatically turn your day into one big special moment.
Supplies
Planetary mixer with a balloon whisk and flat beater
3 baking tins Ø 17.8 cm x 7.5 cm
Saucepan Ø16 cm or Ø 18 cm
Baking paper
Baking spray
Large pan
Piping bag with Wilton 1A tip


Step 1: Cake
Ingredients

360 gr patent flour
530 gr brown caster sugar
100 gr cocoa
4 eggs (L)
160 ml sunflower oil
120 ml hot coffee
240 gr sour cream
240 ml buttermilk
2 tsp baking soda
1 tsp salt
4 tsp vanilla extract
Instructions

1. Preheat the oven to 160 degrees.
2. For the cake, mix the flour, sugar, cocoa, baking soda and salt in a bowl with a whisk.
3. In the mixing bowl of the mixer or planetary mixer, add the hot coffee, vanilla extract, buttermilk, sunflower oil, sour cream, and the eggs. Use the balloon whisk to mix at low speed for 2 minutes.
4. Then it is time to add flour and cocoa mixture. With the flat beater, you mix it briefly on the lowest setting until it is a liquid whole.
5. Grease the baking tins and line them with baking paper. Divide about 600 grams of the mixture into each of the three baking tins. Now you can put it in the oven for 35 to 40 minutes. (160 degrees)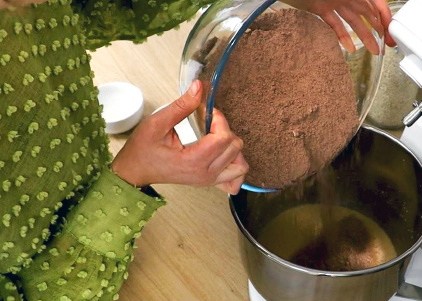 Step 2: Swiss meringue butter cream 1/2
Ingredients
600 gr unsalted butter
450 gr fine granulated sugar
225 g pasteurized egg whites
175 gr salted caramel sauce
Instructions

6. Place the egg white and sugar in a mixing bowl. You can put this on a saucepan with water to heat it au bain-marie. With a whisk, you dissolve the sugar completely while stirring.
7. With a mixer or a planetary mixer with a balloon whisk, you can now beat it on a high setting. You do this until it has cooled down to room temperature.
8. Now swap the whisk for the batter wing and add the butter cube by cube. Now, let the machine run on the lowest setting for about 30 minutes until you have a light butter cream. In the meantime, you can make the caramel sauce so that you can add it to the butter cream.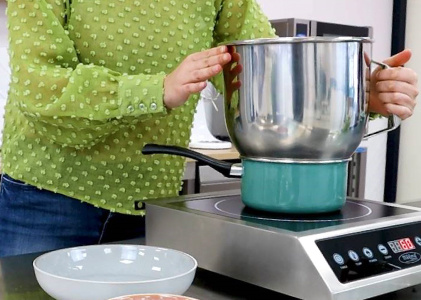 Step 3: caramel sauce (salted) 2/2
Ingredients

240 ml of whipped cream
144 gr fine sugar
93 g glucose
40 gr salted butter
1 vanilla stick
3 g salt
Instructions

9. Slowly bring the vanilla marrow and whipped cream to the boil in a saucepan. Stir occasionally.
10. Caramelise the glucose and sugar in another pan. When the caramel has turned golden/brown, you can add warm whipped cream from the saucepan. Don't forget to take out the vanilla pod. Stir well.
11. Then let the caramel cool to about 35 degrees. Finally, you can add the butter and salt and mix with a hand blender.
12. Add 175 grams of the caramel sauce to the butter cream and mix it together. Keep the remaining caramel sauce for the decoration of the cake.

Step 4: caramelized pecans
Ingredients

150 gr raw & unsalted pecans
150 gr of fine sugar
37 ml of water
Instructions

13. Put the pecans on a baking tray in an oven preheated to 160 degrees. Let them brown for about 8 minutes.
14. Caramelise the water and sugar in a small saucepan. Make sure not to stir this!
15. When the caramel has turned golden/brown, it is time to stir in the pecans from the oven.
16. Then pour the caramelized pecans onto a sheet of baking paper and let it harden. When the pecans have hardened with caramel, chop them into smaller pieces on a cutting board with a knife.
17. Now you can add the caramel sauce to the butter cream. Mix it well and put it in a piping bag.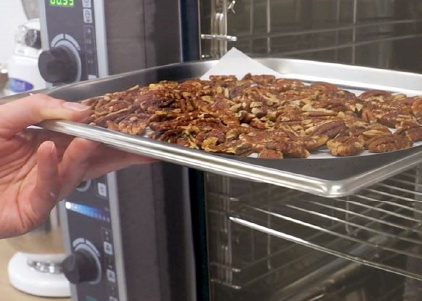 It's time to bring out the cake!
18. Remove the cake from the baking tins and place the first cake on a cake stand. Use the piping bag to pipe thick tufts on the cake. Start from the outside until the entire cake is covered with tufts. Spray some caramel left over from the Swiss meringue buttercream on top of the tufts.
Repeat this with the second and third cakes.
19. Top it off with a colorful decoration of red fruit such as raspberries and/or red berries, and some (dry) flowers. Of course, you can now also sprinkle the caramelized pecans on top and next to it, and you can also add some macarons. Yummy!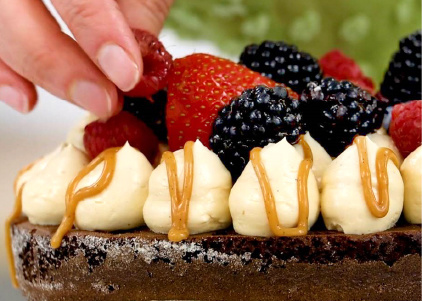 Now you only have to do one thing… enjoy it!
Products used in the video:
Planetary Mixer: https://bit.ly/3fuOdqg
Oven: https://bit.ly/3hJmAwn
Induction cooking plate: https://bit.ly/3v8bSU9