Posted on
By Maxima Kitchen Equipment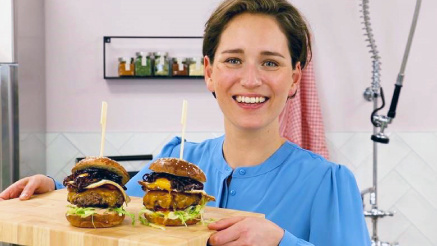 You can almost taste a superior cheesburger before you take the first bite. Can you picture it? You sink your teeth into a warm bun that is crispy and lightly toasted. You take a big bite, and then taste the juicy meat with cheddar and egg. The flavour of the onion rings subtly pierce through while the iceberg lettuce provides a fresh finishing touch. This hungers for more! No worries. With this recipe you can make the perfect cheeseburger yourself.
Necessities (for 4 burgers)
Planet mixer with a balloon whisk and dough hook
Mixing bowl
Mixer (Planet mixer) with a dough hook
Scale
Cling film
Dough scraper (Optional)
Baking brush / baking brush (Optional)
Kitchen (grill) tongs
Spatula
Baking trowel
Bread knife
Long skewers
Baking paper
Oven
Grill
Step 1: Hamburger Brioche Buns
Ingredients
500 gr fine all-purpose flour
8 gr salt
9 gr dried yeast
445 gr white caster sugar
3 eggs (L)
125 gr cold unsalted butter
Sesame seeds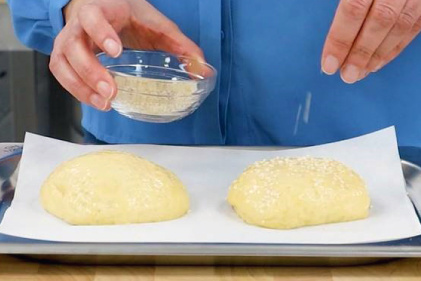 Preparation
1. Mix the flour, salt, yeast, and eggs in a bowl. Set the planetary mixer to the medium setting and mix with a dough hook for at least 10 minutes until you have a smooth dough.
2. When the dough is almost done, you can add butter a little at a time.
3. When the dough is smooth, remove it from the mixing bowl and place it in a bowl. Cover it with foil and let it rise for about 2 hours in a warm, draft-free place.
4. Lightly dust the worktop with a little flour, empty the dough on it and divide the dough into 90-gram pieces. Make balls of this.
5. Place the balls on a baking tray lined with parchment paper, cover with foil and let them rise for about 1.5 hours.
6. Brush the balls with beaten egg and sprinkle sesame seeds on top.
7. Now it's time to put them in a preheated oven for about 14 minutes at 200 degrees.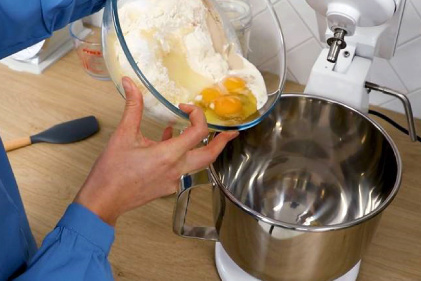 Step 2: Burgers
Ingredients
450 gr minced beef half-and-half
½ tsp garlic powder 
¼ tsp pepper 
¾ tsp salt
1¼ tsp Worcestershire sauce
Preparation
Mix all ingredients in a bowl. Knead it well and make burgers of 125 grams with a thickness of about 1.5 cm.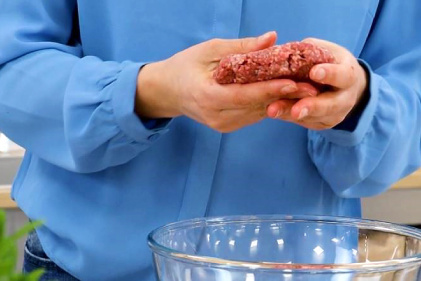 Step 3: Grill
Ingredients
1 red onion         
1 rode ui
8 slices of bacon
½ tsp brown caster sugar 
½ tsp salt
1 tsp apple cider vinegar
22 eggs
4 slices of cheddar cheese
Preparation

1. Fry the bacon on the grill plate until crispy and brown. Turn frequently.
2. Cut the onions into half rings and fry them in oil on the grill.
3. When the onions have softened, add the sugar, salt, and apple cider vinegar, stir frequently and let it caramelize.
4. Now fry the eggs and then the burgers. You fry the burgers on a hot grill, first 1 minute on one side, and 1 minute on the other side. Flip one more time and let the cheddar melt on top of the burger.
5. Cut the brioche buns in half.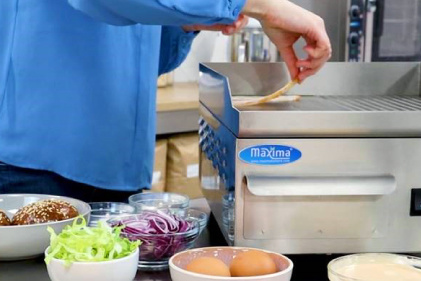 Step 4: Finish up
Ingredients
Onion
Iceberg lettuce
1 slice of tomato (per burger) of +/- 1 cm
Sauce of your choice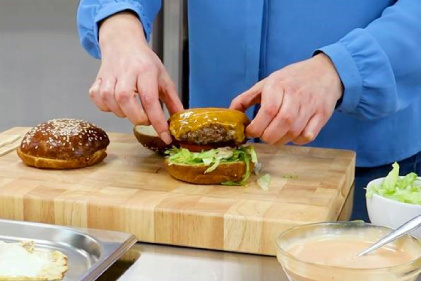 Preparation
We saved the best for last: it's time to 'dress up' your burger! This is the correct order:
Brioche bun, iceberg lettuce, and a sauce of your choice. (The sauce in the video is made from 4 tbsp mayonnaise, 2 tbsp ketchup, 2 tsp Tabasco chipotle sauce, 2 tsp Worcestershire sauce, and ½ tsp Dijon mustard)
     
On top of the sauce, a slice of tomato, the burger, a fried egg, the caramelized onion rings, and finally the bun with sesame seeds.
Such a richly filled hamburger only needs a skewer to keep all these goodies in place. At least for just a minute, because you probably can't wait any longer to take a huge bite of it!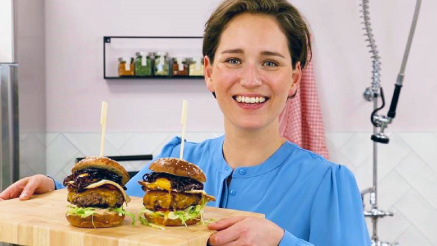 Enjoy!