Posted on
By Maxima Kitchen Equipment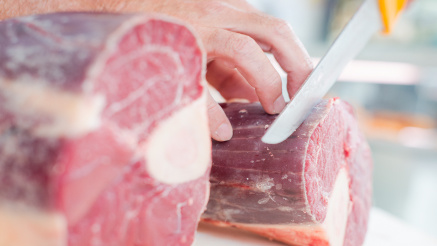 "Great quality meat comes into its own through careful meat processing."
Caring for and living from nature. Slaughtering chickens, hares and other animals for their own use used to be quite normal in rural areas. A trend that has found its way back into our contemporary society: self-sufficient life. Slaughter your own kitchen garden, your own energy production and also your own animals. After slaughter, the meat must be processed and you need kitchen equipment for meat processing.
Conscious and self-sufficient life
More and more people want to live more consciously. A lifestyle that suits people with green motives. It is all about awareness:
- Where does the food that I have on my plate come from?
- In what circumstances did the animal live?
- And how is the meat processed and prepared?
Animals for living
Broiler chickens, cows, sheep and pigs are deployed on the way to a self-sufficient life. These species can be slaughtered and processed themselves. To be able to enjoy a nice piece of sandwich sausage or a hamburger sandwich, the meat must be processed and prepared after catching and killing the animals.
"Great quality meat comes into its own through careful meat processing."
Careful meat processing
To make meat processing even easier, you can use handy kitchen appliances. For example, large pieces of meat do not easily fit in the freezer, which is why there are tools to turn large pieces into smaller pieces. Of course you can do this job with a chopping knife, but you will find considerably more splinters in your meat and the knife will be damaged earlier. The ideal tool for larger bones is the bone saw. With the bone saw you effortlessly divide your meat into smaller portions.
Tender piece of meat
When all the meat is cut and divided into portions, the next step comes: prepare the meat before it is marinated or prepared. The more tender and juicier the meat, the tastier. You can use the handy meat tenderizer for this. With a meat tenderizer you perforate the meat over the entire thickness so that herbs and marinade penetrate deeper into the meat. This way you serve the perfectly prepared piece of meat!

Prepare delicious sauces and spice mixes
You can't do without a food processor in meat processing. The cutter is a kitchen appliance that saves you a lot of time. No more cutting and chopping yourself: you put a portion of pine nuts in your cutter and within a few seconds you add the chopped substance to a delicious pesto or tapenade.
The cutter is also ideal for processing, for example: Meat and fish | Fruit and vegetables | Nuts | Dried fruit | Cheese | Chocolate
Make your own sausages and hamburgers
Nothing better than a homemade piece of tartar or spiced sausage. Whether you like lamb, beef or pork, with a versatile meat grinder you can make tartar and minced meat in no time. Prefer a sausage on the barbecue? Making sausages yourself is a difficult task. Save yourself a lot of time and effort and use a sausage filler. Choose the thickness of your sausages and the filler ensures that the meat is evenly distributed.
Home-made hamburgers also belong to a barbecue. The tastiest hamburgers are seasoned hamburgers. The meat mixer helps you season your meat. Handy, because this way you know for sure that all meat is seasoned evenly. Did you mix the meat well with the herbs? Then you can start making the burgers. You put your minced meat in the hamburger press, turn the handle and a perfect round hamburger comes out.
Paper thin slices of meat
You can't immediately serve or eat all that delicious meat. Cut the meat into nice, thin slices and package the meat for later use. You cut the nicest smooth slices with a meat slicer. Do you prefer thicker slices? Then the meat slicer is an ideal addition to your kitchen equipment because you can set the desired thickness yourself.