Posted on
By Maxima Kitchen Equipment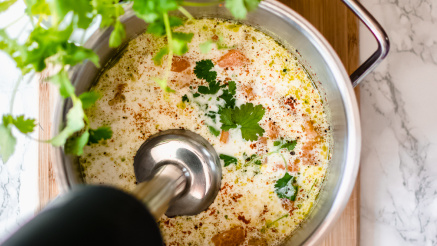 Wij hebben FoodFromClaudNine een aantal heerlijke recepten laten maken met onze machines. We beginnen met pompoensoep! Benieuwd? Lees snel verder!
Snel en makkelijk
Wat verder heel fijn is aan deze soep, is dat ie héél snel klaar is. De pompoen moet een kwartiertje koken, staafmixer erop en je kan aan tafel. Heel fijn als je al een hele dag hebt gewerkt en geen zin hebt in tijden in de keuken staan.
Veelzijdig
Wat verder heel fijn is, is dat deze soep lekker veelzijdig is. Je kan heel veel kanten op qua smaak, maar ik kies toch altijd voor de chili, kokos, koriander variant. Deze vind ik het lekkerst, dan heb je fris, zoet en pittig.
Benodigdheden
Eigenlijk heb je voor dit recept maar 2 dingen nodig.
> Een soeppan
> Een staafmixer, ik heb deze gebruikt.
Ingrediënten voor 2 kommen
400 gram pompoen in blokjes
400 ml water
200 ml kokosmelk
1/2 chilipeper
1 ui
2 tenen knoflook
handje verse koriander
1/2 tl komijn
peper
1/2 groente bouillonblokje
scheutje olie
Bereidingswijze
1. Verhit wat olie in een grote pan en fruit hierin de knoflook en gesnipperde ui. Het hoeft allemaal niet fijn en klein want we gaan straks toch alles pureren.
2. Voeg dan de pompoen, de chilipeper in stukjes gesneden en de komijn toe en roer nog even door. Voeg het water en het halve bouillonblokje toe en kook zo'n 15 minuten totdat de pompoen gaar is. Dit is natuurlijk afhankelijk van hoe groot je pompoenblokjes zijn dus hou dit in de gaten. Als je met een mes makkelijk door de pompoen heen prikt is deze gaar.
3. Wanneer de pompoen gaar is voeg je de kokosmelk toe en de komijn en pureer dan totdat alles fijn is en er geen stukjes meer in zit. Proef dan even en breng op smaak met peper.
4. Laat inkoken totdat je de gewenste dikte hebt of serveer direct. Heerlijk met een tosti of stokbrood. Zelf garneer ik altijd graag met nog wat extra kokosmelk en héél veel koriander.
Benieuwd naar de overige gerechten? Hou dan onze blog in de gaten. Wij zullen 2 keer per maand een recept delen! Voor meer heerlijke recepten of inspiratie kan je terecht op het Instagram account van FoodFromClaudNine.