Posted on
By Maxima Kitchen Equipment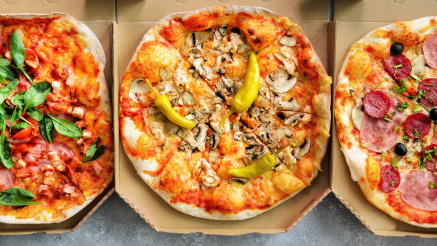 Looking to open a pizzeria? Now is always the best time to leap headfirst into an exciting new business venture. But don't be naïve - like any grand endeavor, launching a pizzeria takes careful planning and consideration.
Pizza is popular. Really popular. As a dish it is very versatile, making it easy to cater to customers looking for a sit-down dining experience. Being the exciting and adaptable food that it is, if you're looking to open up a pizzeria yourself then you're onto a winner. 
So, buckle up and order yourself a 12". It's time to dive into these seven tips about creating the next big pizzeria.

Molding the Perfect Menu
Pizza is everywhere nowadays. It's hard - if not impossible - to walk down a high street without seeing at least one pizzeria.
Whether it be a traditional Italian dining experience or a fast-food pizza chain, it cannot be denied that in your venture towards creating a five-star pizza store, you're going to run into plenty of competition. For this reason, it's essential that you shape a menu which is going to allow you to stand out amongst the crowd.
First and foremost, when you're conjuring up the perfect menu, pay close and careful consideration to your choice of toppings. 

It's easy to rush this step. What's more, it's easy to see how so many people fall into the trap of rushing this step. With so many traditional pizza styles out there, some believe they can simply hop on the pepperoni bandwagon and ride the wave of success.
But alas, too many times have I myself had a pizza which just failed to hit the spot, whether it be due to poor topping positioning (believe me when I say all too many pizzerias don't pay enough attention to this) or underwhelming frozen ingredients which ruin the overall experience.
There's your first big tip when it comes to toppings: source yourself high-quality fresh produce to top your doughy creations with. Fresh artisanal dough, kneaded by hand or a spiral mixer, will bump up quality and taste levels as well. Whilst this certainly may be the more expensive option compared to bulk buying frozen dough or toppings, the value for money here comes from customer satisfaction and subsequent customer loyalty - and believe me, that's priceless.
I really cannot stress this one enough, the difference between frozen and freshly chopped peppers is huge, and the same can be said about chicken. Proper refrigeration will help you to keep everything super fresh. Quality ingredients really will give your product that wow factor.
Next up here is innovation, like I have said, pizza is a beloved meal and a snack as old as time, therefore it's definitely worth thinking about how you're going to put your own unique spin on things.
I've had square pizzas, which were - well, they were square. Things like this are a novelty, and they might attract an odd couple of youngsters looking for something different but they rarely create loyal customers.
One thing which will, however, is a new and unique taste. Whether it be never-before-dared combinations of toppings or a slightly unusual sauce for the pizza base, do not be afraid to experiment! 
When you give careful consideration to your pizzeria's menu at this early stage, you'll get two advantages given to you. Firstly you're going to gain that initial awareness of what equipment you're going to need, and secondly, you'll form the cornerstone of your brand.

Conceptualize and Develop Your Brand
The true meaning behind the word 'brand' is sadly lost on many new business owners. People like this will consider something like 'Fanta' and say "that's a brand" when in reality that is the brand name, not the deeper meaning and connotations which lie beneath it.
So consider the term 'brand' as more of an umbrella - under which there lie smaller details like the name and the logo. Since your brand is far more than simply paying a graphic designer to create you a logo, you're going to want to give it the due thought which it certainly deserves - and needs - at this early stage.
Coming up with a concept that holds promise is the key to a successful restaurant, you're going to want customers to think of a positive brand message when they come to you - so that's often a great place to start.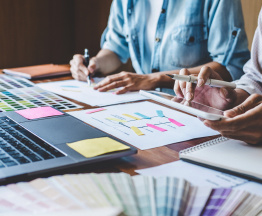 Moreover, a short but informative tagline really goes a long way in these initial steps towards shaping your brand.
Think of how many times you've heard the 'I'm lovin' it' tagline in Mcdonald's promotional material. You could even see or hear it independently of anything McDonald's related and your mind instantly thinks of a delicious cheeseburger or an iconic Big Mac.
In fact, this highlights the key to what your brand vision should achieve - the promotion of positive cognitive associations within the minds of your customers. 
If you're going for an on-the-go style pizzeria then consider a tag that correlates with your quick and easy product, or if it's a dine-in restaurant, something classier which encapsulates the experience you offer.
Something which cannot be forgotten when you're in the process of brand creation is the color scheme you're going to be using within both promotional marketing and the physical store.
Something both visually appealing and relevant is what's key here. How many times have you been in a restaurant which simply missed the mark with coloring? It's jarring and offputting.
Choose a color scheme that conveys your initial tagline. If you're going for something on the upmarket side of things then deep blues, greens, and purples will strike customers with their fancy aesthetic. For a fast-food style, brighter colors have historically been more successful if you look at the most popular chains. 
As a quick last note here, when in the branding stage, it is worth considering if you'll offer a delivery service. This is mandatory to consider here because it shapes the workforce and financing you'll need (I'll get to this later on) whilst working to complement any restaurant in terms of your customer base. 
Delivery service is a really great method to both reach new customers, and to supply existing customers when they can't make it into the store. With companies such as Deliveroo now operating to make delivery a much more accessible option, there's never been a better time to get into it.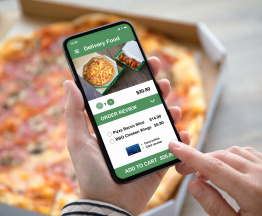 Find the Perfect Location
So, you have considered the menu which is going to be the driving force of your pizzeria and you have begun the conceptualization of your brand.  The next key stage you're going to find yourself at is choosing your location. 
Remember, this is where you're going to be based - so it's essential that you consider all of your available options. There really is no rush here and it's best to take your time rather than to begin the development of your physical store only to change your mind later on.
When it comes to finding your ideal location, the first thing you'll want to think about is finding a spot that isn't already swamped with similar pizza-selling restaurants. Whilst a bit of healthy competition certainly never hurt anyone, it's not a great idea to set up shop only to be living in the shadow of the neighborhood's well-established and most popular pizzeria.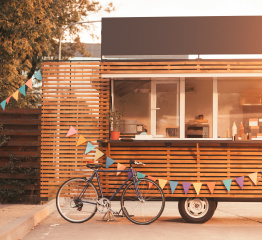 Now, assuming you've picked what town or city you're going to build your pizzeria within, it's worth trying to think about what attributes you want your location to have. The first thing to consider is foot traffic. Simply put, the more people that are going to be walking past your store, the more potential customers you're going to have.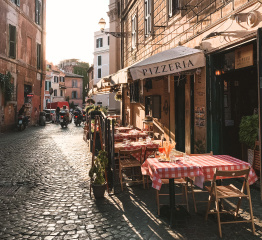 The obvious choice with this in mind is to attempt to secure a location on the main high street - if you're able to get in amongst the already established retail stores in your desired location, you'll benefit from the customers their store is going to be attracting. Shopping is hungry work, after all.
Now, obviously finding a prime location on a high street is going to be fairly challenging depending on where it is that you have chosen. As a secondary option, you can also consider other busy streets in your chosen area, to do this try asking people you may know in or around that area where they spend most of their time when out and about. 
Google maps is another handy tool and a blessing of modernity which allows you to explore your desired area without the need to physically go there.
If you're going for more of a delivery and collection style and are unable to find a central location, pay careful consideration to the amount of parking which will be available to both your delivery drivers and your customers.
When it comes to your brand image, you're going to want to think about whether or not your location is in tune with that image. For example, it's not ideal for a more formal dine-in pizza experience to open up in a run-down area of town. Yet the same can be said if you're looking to provide a fast food experience. If this is the case then looking to open up in the most upmarket area of town might not be the best idea.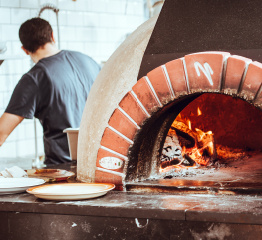 Consider Financing and Loans
Once you're set on the location for your pizzeria, you'll want to carefully think about how much financing is going to be required to get the ball rolling. The first thing to do here is to consider start-up costs: how much exactly is required to get the doors of your store open.
Here lie things such as trademark fees, site and renting costs, kitchen equipment, and furnishing the rest of your shop - amongst a fair few other things. Along with this, you're going to want to add up the estimated amount that it is going to take you to operate for a year.
There are two very important things to consider here. Firstly, you don't know when a profit is going to be made. It could be in the first week and it's equally possible that you won't see a return on your investment for a year.
Another thing you're going to want to pay attention to is how truthful you're being with yourself regarding costs. It's best to overestimate when it comes to how much you need than to run out of money halfway through.
For this reason, I recommend adding an extra 15 to 25 percent to your initial estimate in order to cover any unforeseen expenses. In addition to your personal investment in the business, consider applying for loans if you're short for money.

Plan Your Plan
A proper and structured business plan is essential for the structuring of your company - not to mention obtaining any necessary finance. Nobody is going to invest in a poorly structured business.
To do this, you're going to want to construct a brief but clear description of your company and your mission - why are you starting this business and what do you want to achieve?
You can call this your action plan. Now that you've established the fundamental necessities such as brand and location, it's time to consider what products and services you're going to supply to your customers. Important to include here is your market analysis and a list of suppliers you're going to be working with.
This is also a good opportunity for you to record the startup costs you formulated within the financing stage of your business development, you'll want to break this down here as well into each category - rent, utilities and equipment should all be included in this plan in order to give any investors a clear idea of where their money is being spent.
When you have done all this, you should be able to estimate a possible amount for both your yearly spendings and income - you'll want to include these here as well because you will get an idea for your business margins and hourly wages for your staff. 

Hire the Right Personnel
Speaking of your staff, it really is essential that you hire the right workforce. After all, your employees will form the face of your pizzeria. Therefore, you're going to want to seek out staff who are ready and able to become the visual embodiment of your brand message. 
It's vital that your customers feel as though they are warmly welcomed and duly respected by your workers, so don't settle for anything but the best. It's a shame that all too often a restaurant serving a quality product is let down by a lackluster workforce.
When you're interviewing potential staff, consider how they feel about applying to work there. Moreover, is this simply a job for them? Are they a student looking to make a bit more cash on the side, or are they genuinely passionate about your business and want to deliver a quality experience?
If you hire people who genuinely care about what they're doing then they will work with dedicated passion, not to mention remain committed when things are a little stressful and intense on shift. 
Lastly, you'll benefit from hiring staff who at least have a foundational knowledge of what they're going to be jumping into. The more inexperienced the staff which you hire are, the more mistakes they're going to inevitably make. 
This will cost you in the long run. Also, a huge benefit of hiring workers with experience is that they won't require as much training - meaning you'll be leading a fully-fledged workforce in no time.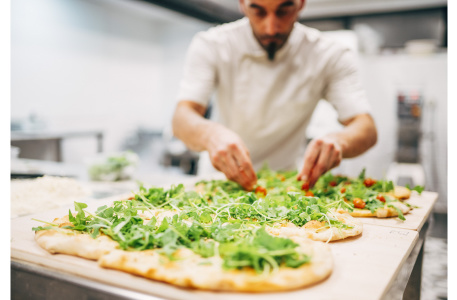 Promote Your Pizzeria
So, if you've followed the six tips above then that means you'll be very near to opening your dream pizzeria. Beginning a new business is a very exciting time for anyone, and you've come to what I consider to be the most exciting stage.
Promoting and marketing for your new restaurant is your first opportunity to show to the world what you're all about.
Think back to when you were in the drawing board, coming up with your brand identity in step two - this is your chance to really demonstrate that message in a creative and unique way. The fundamental key here is to make sure that the local neighborhood knows about your pizzeria and its upcoming launch - whilst this can be done with flyers, your best friend when it comes to marketing is the internet.
Many social media platforms nowadays include a built-in advertising option for business pages, meaning that through their targeted advertising formula you are able to promote to a broad range of people who will see your posts on their newsfeed. 
Don't be afraid to be creative with your promotional material. Be mindful, however, that it's equally important that you don't forget to include all of the essential information.  I'd recommend including the address, telephone number, opening times, and your menu.
If you're going to include images of food, make sure that you take high-quality photos to show off your food at its best - this is your chance to make people want to come and dine with you.
One final note on promotion, go easy on the discounts and free meals you offer out. Whilst this can be tempting as a way of attracting people in, it's easy for losses to add up and in the first few months it is important not to lose unnecessary amounts after your initial investment.


Conclusion
Hopefully, this list has taken you on your way to opening your dream pizzeria, a list like this really does go a long way towards breaking down the steps necessary. Jumping in headfirst without a sense of structure can make things seem overwhelming.
So above all else, get personal - add a touch of yourself into your new pizzeria - and enjoy yourself. This is a project which could quite possibly last you a lifetime so take things one slice at a time.