Posted on
By Maxima Kitchen Equipment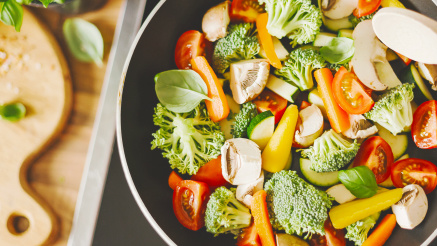 Have you ever thought about induction cooking? With the mobile induction hobs from Maxima Kitchen Equipment you have extra capacity in your kitchen in an instant. Handy for busy times, but also if you often cook on location. The induction hobs have a practical size and are therefore easy to take to any location. Cooking on induction is ideal if you want to prepare the tastiest dishes in a safe and fast way and also want to be economical with energy.
Advantages of induction cooking
Cooking on induction is slightly different from "normal" cooking. With a gas or electric cooker, the hob heats up, but it is the other way around when cooking on induction. Instead of the hob, the pan is heated. Is the hob on without a pan on the fire? Then nothing happens at all. Only when you put the pan on it, it heats up. A very safe way of cooking in professional kitchens. In addition to safety, there are many other advantages of cooking on induction hobs.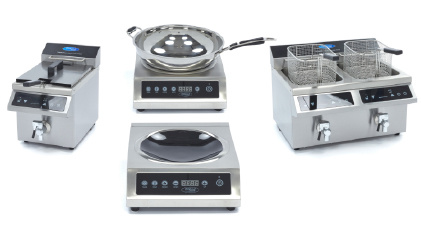 1. Economical with energy
Because the hob switches off automatically when you remove the pan, you only use energy when you need it. The burners no longer burn unnecessarily and consume energy. If you cook on gas, the heat rises along with the pan when cooking. What you really want, is that the heat goes directly into the pan and that is exactly what happens when cooking on induction. This way you ensure less heat loss because almost all energy goes to heating the pan.
2. Easy to keep clean
With an induction hob, scrubbing between all the loose parts of a gas stove is a thing of the past. The hob is flat and made of glass. An ideal surface for quick and easy cleaning. Messed while cooking? You no longer have to wait for the hob to cool down. When you take the pan off, the heat is gone, and you can wipe the plate with a cloth.
3. Short heating up and cooling time
Working in a catering kitchen means that there is often a rush to have dishes ready on time and at the same time. Induction ensures that the heat-up time and cooling time are relatively short. Preparing pasta quickly becomes a breeze if you cook on induction. The induction pans heat up very quickly and water boils in no time. For example, a pan of water boils twice as fast as with an electric hob. Is it a rush hour in the kitchen? Then you can easily add an extra burner with an induction hob to heat a pan of soup or to quickly boil an extra egg.
4. Set the temperature accurately
Another advantage of induction cooking: most Maxima models are suitable for setting the temperature to the degree, between 60 °C to 240 °C. The tastiest stews are made with meat that has been cooked at a temperature below 90 °C. With an induction hob, you can be sure that dishes are cooked at the right temperature.
5. Working safely
You have already read it: cooking with induction is safer than cooking on a gas stove. There are no flames, the hob does not get hot and there are no gas leaks. All Maxima induction hobs are equipped with electrical overheating protection. If the temperature is too high, this protection ensures that the device switches off automatically.

Even more induction: frying and grilling
Did you know that you can also find induction fryers and induction grills at Maxima in addition to induction hobs? The fryers and grills are also safe to work with and easy to keep clean.
Induction fryers
A perfect oil temperature is essential for deep-frying. Tempura batter and deep-fried doughnut balls (in Dutch: "oliebollen") can be fried at 180 °C, while the ideal temperature for fries is a maximum of 175 °C. If you choose to fry with an induction fryer, you have a big advantage: you can use the heat in a much more targeted manner. You can then set the oil to any desired temperature to make the crunchiest products.
Induction grills
You can make delicious grilled vegetables or a tasty hamburger on the induction grill. Because induction works differently as a heat source than a gas or electric stove, the induction grill is completely flat. Because of the flat bottom, the induction grill works optimally and the heat is distributed evenly. To make cooking on the induction grill even easier, it has a frying zone, splash guard, and a removable fat tray.