Posted on
By Maxima Kitchen Equipment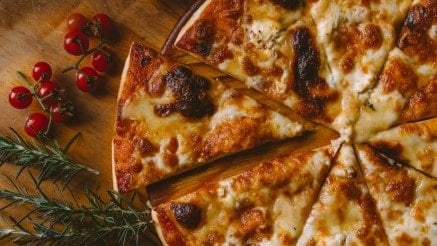 Such a deliciously crisp base topped with fresh ingredients. Even before you step into the kitchen, the smell of pizza is already wafting towards you: the best pizzas are of course homemade!
Making large quantities of pizza dough
Making pizza dough is hard work. That is why it is smart to make a large quantity of dough in one go, so you can put a quick home-made pizza in the oven at any time. The dough mixers of Maxima Kitchen Equipment are excellent for this job. You don't have to knead the dough yourself anymore, this device does it for you with ease. Of course, with the planetary mixer you can not only knead the dough, but also mix and whisk it.
Is your pizza dough ready? Time to start making those beautiful pizza bases. Of course, you can do this with an old-fashioned rolling pin or with your hands. Make it even easier on yourself by putting your pizza base through an automatic dough roller. This makes rolling out dough a piece of cake.
Pizza dough left over: how do you best store it?
It is handy to always have some pizza dough on hand for a quick meal. That way, you don't have to spend hours in the kitchen after a busy day at work, but can enjoy a delicious pizza in no time.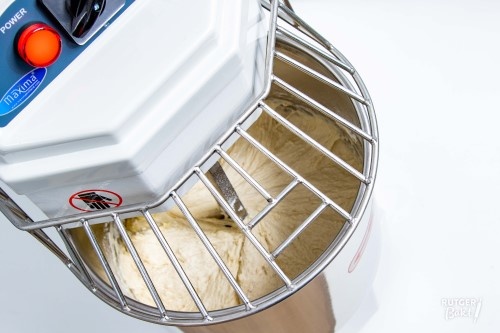 1. You can keep pizza dough in the fridge
Are you planning on baking another pizza in the pizza oven within two days? Then the fridge is a great place to keep your pizza dough. Put the pizza dough in a closed and airtight plastic container and place it in the fridge. When you want to use the pizza dough, take it out of the fridge at least an hour beforehand, so it can get at the right temperature. Make sure you don't keep your pizza dough in the fridge for more than two days.
2. You can also freeze pizza dough
Do you prefer to keep your pizza dough for longer than two days? Then the freezer is an excellent alternative. By wrapping pizza dough airtight and putting it in the freezer, you can keep it for about two to three months. After you have made your dough, make small balls of it and place them on a plate. Cover the balls loosely with cling film and put them in the freezer. Once your dough balls are frozen, you can place them in a bag or wrap them in cling film separately.
Again, make sure the pizza dough is at room temperature before you make the pizza. This way you can be sure that your pizza will have a beautiful pizza base.
Little time? First pre-bake then store
If you don't have much time to roll out the pizza base first, you can also choose to pre-bake your pizza dough and then store it. An even easier option: already put tomato sauce and possibly other ingredients on your pre-baked base. Just pop it in the oven and your pizza is ready!
How to pre-bake a pizza
If you want to bake your pizza before storing it, then you should proceed in the same way as for baking a normal pizza. The only difference is that you bake the dough for a much shorter time when pre-baking.
1. Preheat oven to 250 °C (preferably put a baking stone in the oven)
2. Make pizza dough and roll out the bottom.
3. Spread tomato sauce on the pizza base if necessary.
4. Bake pizza in the oven for 3-6 minutes
5. When the bottom is firm enough to take out, remove the bottom from the oven
6. Leave to cool and possibly sprinkle with ingredients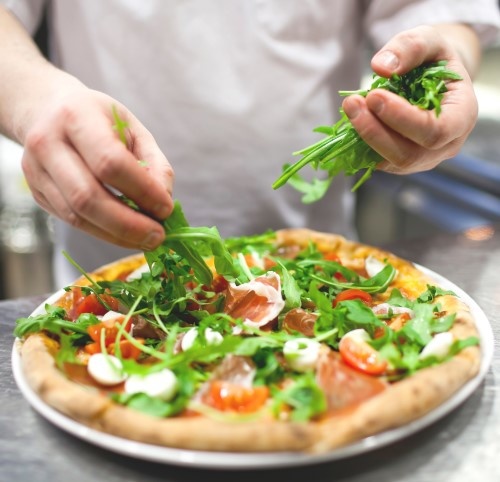 Storing pre-baked pizza in the freezer
When you freeze pre-baked pizza, you make sure that the toppings on your pizza can also be frozen. Put the pizza in an airtight container, for example a large plastic bag, and place it in the freezer. Just like pizza dough, pre-baked pizzas can be kept in the freezer for about two to three months.
How do you bake off pre-baked pizza?
Baking a home-made pre-baked pizza from the freezer works the same as baking a pizza from the freezer in the supermarket. You preheat the oven to about 250 °C and bake the pizza in eight to twelve minutes.
Baked pizzas also keep well
You've probably experienced it before: you've made a delicious pizza but you just can't finish all the slices. Throwing it away is a waste. But did you know you can also keep baked pizza? After you've finished eating, put the pizza in the fridge or freezer as soon as possible. Pizzas keep for about one to two days in the fridge and two to three months in the freezer.