Posted on
By Maxima Kitchen Equipment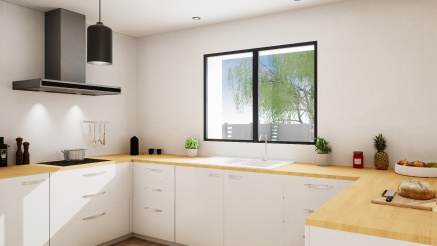 The kitchen is the heart of your home. Food is so centric to our human experience and such a fundamental part of the day that it's vital to have a space in your home which does it justice.
Creating your dream kitchen seems to be both an intimidating and invigorating task simultaneously; the opportunity to birth the vision you have had for years now finally becoming an actuality. You've scrolled down Instagram, you've read your way through a skyscraper of homeware magazines - all those hours of dreaming and envisioning have led you to this moment.
Yet, Instagram influencers and retail magazines don't quite do justice to the overwhelming pressure of balancing pragmatism with aesthetic. The perfect kitchen is one which is both easily usable and elegantly stylish. However, despite what you may be thinking now, it doesn't have to be a struggle - and more importantly, it doesn't have to break the bank.
So close down Instagram and put away the brochures. To aid you on this journey of kitchen creation, we have compiled for you a list of 6 easy tips for you to follow to bring that dream kitchen to life.

1.  Create a Space Which Reflects You
As I have mentioned already, there is a wealth of content out there demonstrating all kinds of styles which it can be easy to lose yourself in. Be it vintage meets modern, modern meets vintage or somewhere in between the two, the technological age has given us access to the styles embraced by others at the tips of our fingers.
But remember why you're here: to create your dream cooking space, not to create a mirror of Sophie-from-Instagram LA penthouse kitchen. It can be easy to fall in love with a kitchen aesthetic just because it's popular right now.
So when designing this new space consider it an extension of yourself, an opportunity to show visitors your passions and your styles. For example, you could use your favourite colour as the secondary colour in the kitchen. Little nods to yourself like this will make it a much more homely environment.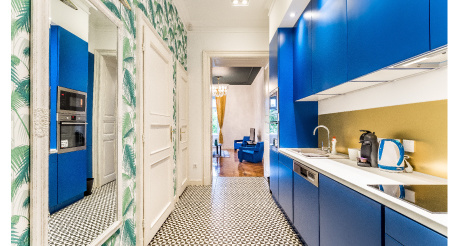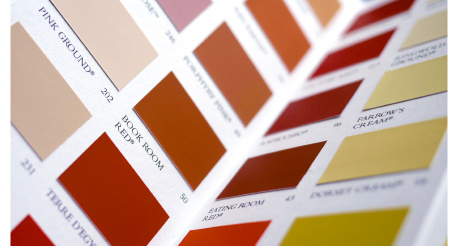 To further explore your look, sit down with a cup of tea and envision your style, think of all those little things which make you, well, you. If you're struggling to envision this mentally then a little tip is to take a glance through your wardrobe. 
This will allow you to see the slight ways in which you have shaped a style through the way you show yourself to others - are you more of a minimalist block-colours kind of person? Then echo this through a minimalistic but modern kitchen. Or do you dress funky with a quirky fashion sense that echoes your childish nature? If that's the case why not deck the surfaces with plants and the walls with bold artwork.
The key takeaway from this tip, is not to be generic - it's easy for anyone to walk into IKEA and settle for the first showroom design they find, but to shape a space born from your style takes skill and personality.

2. Keep Your Budget in Mind
Unfortunately, things cost money. With this in mind, it is important to remember that however much you have allocated to spend on your kitchen needs to cover everything.
It's incredibly easy to look at any amount of money and think it's an immortal sum - that no matter how much you chip away at it, it'll last forever. This is certainly not the case.
So to begin with for this tip, set a limit on how much you want to spend on your kitchen at the start - without a firm price limit in mind it's possible you'll get carried away and go way over budget. It's also vital to return to this figure every time you make a purchase, otherwise you risk coming to needing something and realising there's not enough left in your pot to cover it.
The key is knowing when to, and being able to, say no to something. If that modern dishwasher is priced out of budget then it'll be better for you in the long run to keep those dirty plates in the sink.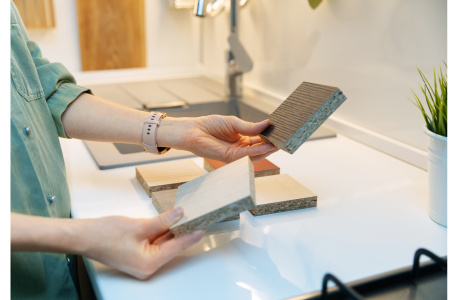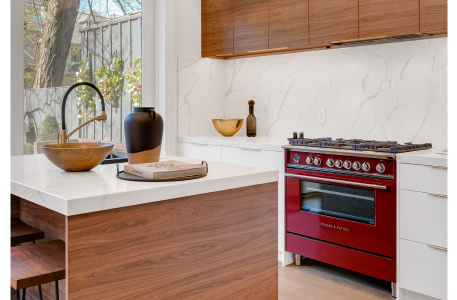 You can always make smaller upgrades down the line. If money is tight then consider this kitchen as more of a skeleton on which you can gradually add to over time. Your desired vacuum sealer may have to wait. 
Also with your initial budget, consider what is essential and work your way from there - this way, your initial spending will cover what you really need and subsequently leftover money can be kept for the finishing touches.
Something which it is essential to turn down, no matter how tempting it may be at the time, is borrowing money. Whilst it certainly can be tempting and can come across as an easy shortcut to pushing your design that much further, it's only going to stress you out further down the line. Racking up debts will be counter-productive to enjoying those morning coffees in your nice new kitchen in peace.

3. Keep Storage in Mind
Despite all the room that will be available on those nice new surfaces. It can be surprising how quickly storage space can get used up in a kitchen. Once you've put away all the kitchen tools and utensils you'll still need room to store your food. It's for this reason that storage must be considered along with aesthetics.
It's important to keep the countertops mess-free to avoid a cluttered look in your kitchen. There's nothing more irritating than not being able to find the coffee beans early in the morning, or not being able to find the peanut butter for your midnight snack.
Thankfully to keep order on kitchen surfaces, many online retailers offer cheap and fashionable organizers for the kitchen counters to avoid that aforementioned dreaded cluttered look. A bamboo spice rack, for example, will allow you to keep order over all those condiments, just as labelled containers will enable you to show off your new healthy diet.
Keeping surfaces free from clutter will secure the ambient feel you want in your kitchen, not to mention the fact that the added space will make meal preparation much easier. Going for a compact induction plate instead of a bulky gas hob, will add to the spacious look of your kitchen. After all, there's nothing fun about cooking in a cluttered kitchen environment. 
Drawer space is also your friend when it comes to managing storage in your kitchen, they're easily accessible and therefore won't leave you struggling to reach something buried at the back of a cupboard. 
Our advice here is definitely to create room for quick access items in drawers along the surfaces. Cupboard space can be great for those dishes and pots which don't see quite as much use (yes, we believe you - you'll make that fancy casserole one day).
One quick trick to keep those drawers decluttered is by installing a magnetic knife rack. This not only means you'll have more room for cutlery but will also allow even quicker access to your knives. 
When it does come to cupboards, if you can budget for it, consider looking into pull out baskets as an option here. These will save you all the head-banging when you're coming out from the back of a cupboard, not to mention giving off a lavish and chic vibe to showcase when your friends are visiting.


4. Create a Haven for Socialising
Talking of having friends over, I'm sure you too have sat around for hours after a meal reminiscing, talking politics or getting a good gossip in. No longer is the kitchen an area reserved primarily for the cooking and eating of meals - it is an area for discussion and for bonding.
The first tip I can suggest for bringing this to life is to look towards an open plan layout, the highlight of this is that you can alternate between being at the table with guests and checking on the oven without having to dip in and out of conversations. Try an island surface top instead of a wall to open the gap between your utilities and the dining area.
Seating is a huge part of turning your kitchen into a place for long catch-ups or pre-night out drinks. Consider how many guests you think you'd like to have with you at any point and use that as a base number for how many seats to include.
A shortcut available for you here is foldable seating. This cheaper investment opens the door to your friends bringing a plus-one over for dinner - not to mention they can be conveniently tucked away in a cupboard.
Something which without a doubt brings a communal feel to any kitchen is an Island countertop. This allows you to create that 'breakfast bar' aesthetic which can be used for fleeting coffee catch ups or sit down breakfasts after a night out.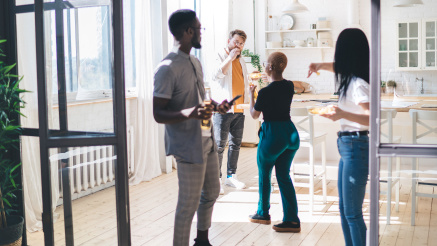 What's more, this creates an area which can fit a large deal of seating all around, for those more crowded get-togethers in the kitchen.
When it comes to kitchen islands, there's a plethora of options available for you. As a portable option you could consider a rolling cart. Whilst this technically isn't an 'island' by the traditional definition, it comes with the huge advantage of being able to reposition it at your leisure, allowing you to switch effortlessly between a prep area and another surface for guests to gather around.
Other options available in the world of kitchen islands are functional utility islands, which can be an ideal location for your sink with built-in plumbing. If you're operating on a tighter budget but still want to include an island, you can look towards a raised marble table positioned in a central location in your kitchen. Whilst you lose out on storage space here, one major positive is that you gain leg room for when your guests are gathered round.
Another great way to shape a sociable space is to look at bluetooth ceiling speakers, or a more budget-friendly option may be a surface hi-fi system. This opens up the door to implementing background music, like some subtle jazz or melodic lofi to give those evening glasses of wine some character. 

5. Don't Forget About Lighting 
Lighting is key to shaping the atmosphere you want your kitchen to create. While you want to avoid over-lighting this space, it is equally possible to fall into the trap of under-lighting it. When it comes to brightening the room up, your first thing to consider is utilizing the available natural lighting. 
Natural lighting will allow you to save money down the line on energy bills, but also help to create a cosy feeling in the mornings as the rising sun rolls in through your windows.
Something to remember when considering your use of natural lighting is where the light will fall, you ideally want it coming towards you to avoid casting shadows. With this in mind, consider which counters you're going to be doing the bulk of food preparation on, and position them in front of your available windows. This pragmatic approach will help you cut back on energy bills.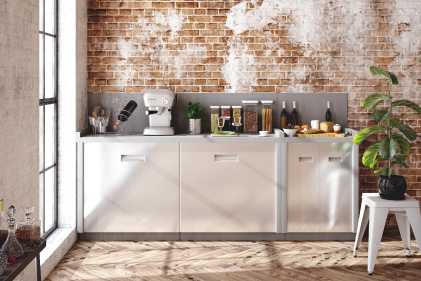 Next thing to think of is not just how much artificial lighting you want, but also whereabouts you're going to position it. Important to consider here is what aesthetic your kitchen is going to reflect.
For a modern look, try under cabinet lighting - this not only gives a smart 21st century look to your countertops, but will also make preparing that midnight cheese toastie that much easier. Another idea if you're considering a modern style is built-in ceiling lighting. This can be both stylish and highly complementary to an open-plan kitchen, since the lack of ceiling hangings reveals the room's size.
If modern isn't what you're after in your kitchen, consider adding warm lighting with an orange tint. Through its hazy glow, this style of lighting will really add to a rustic or vintage aesthetic.
A personal tip would be the addition of a Himalayan salt lamp, this atmospheric glow will be sure to secure the mellow vibe of those slow evenings. Studies also suggest that warmer lighting is easier on your eyes, so this is something the health-conscious individual may wish to consider.

6. Don't Forget to Utilize Wall Space
Many people focus predominantly on the floor space when designing their new kitchen, yet, walls offer a chance to add to both the kitchen's functionality and also your chosen style.
Firstly, like I have mentioned, storage is essential in any well designed kitchen and when it comes to heightening the amount of it available to you, don't forget to utilize the walls. Key here is the use of shelves on the walls. Carefully select areas on your walls which you would like to position quick-access items such as sauces or food containers.
Shelves offer a decorative method to storage. Well organised shelves on your walls add to the homely ambience you might wish to create, and with plenty of modern and vintage styles for you to choose from, you're certain to find some that suit your chosen look.
Yet, despite wanting to utilize some wall space for storage, the true beauty of your kitchen walls is their ability to truly compliment your kitchen's personality, it's your true chance to bring a touch of personality - to tell your own personal story - through your kitchen's design.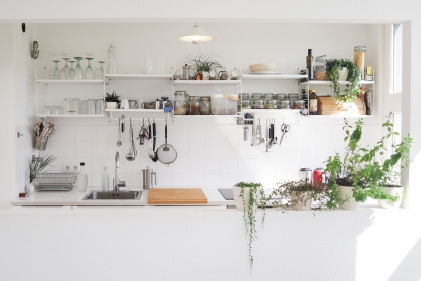 It's here where you've got the opportunity to really express yourself. Do you have a favourite painting? Try hanging it on the wall. Do you have a bunch of old photos from your travels? Try arranging them in a collage frame.
An effective and generally inexpensive addition to any home is wall art. A minimalist black outline design would be a great compliment to any modern kitchen interior - if you're going for a more rustic aesthetic then aboriginal artwork combines vintage with quirky to bring your walls alive with ethereal designs.
It doesn't stop here either, wall space can give your kitchen additional functionality. Consider including a calendar and a clock to heighten your organization, if you're anything like me (late for literally everything because cooking always takes longer than planned), then these are a couple of must haves on your kitchen walls.

Conclusion
Feeling better about your kitchen redesign now? With these tips, you'll be on the right track to achieving your kitchen dreams. 
Remember, this doesn't have to be stressful. You've got all the time in the world to settle on your dream design - so see these tips as guidance, not commands.
One final thing worth mentioning is the importance of enjoying yourself! Interior decorating can be really fun, an opportunity for people of all ages to embrace their creativity and more importantly to create something which is an authentic reflection of themselves.
So leave those Instagram influencers' behind. Their dream kitchen is theirs - and your dream kitchen should be yours. There is nothing left for me to do but wish you luck on your journey of kitchen creation. May your new space see many scrumptious sunday roasts and strong morning coffees, accentuated by good style and quality interior design.