Posted on
By Maxima Kitchen Equipment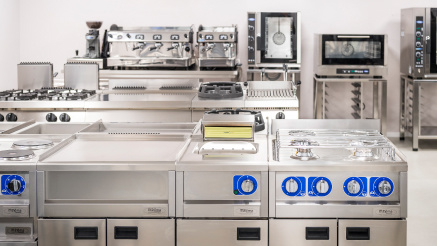 Are you going to start a catering business? Then you need a professional kitchen. What do you need and how do you do this? Follow these six tips for this.
A catering kitchen is more than the kitchen itself, it is also the dishwashing room, the cooling and the warehouse. And that includes high quality catering equipment. Good catering equipment is the key to a successful, professional catering kitchen. It will be a big expense, but it is really an investment in the future of your business. In short, you have to take a lot of things into account.
Tip one: Have the concept of your catering business clearly in mind.
What is the concept of your catering business? It is important that you have this clearly in mind. The layout of your professional kitchen depends on this. After all, a fast food restaurant requires a different type of cuisine than an à la carte restaurant. Furthermore, the concept also determines the required capacity of your kitchen. How many visitors do you expect? Will the guests stay long or will there be a lot of follow-up? It is therefore important that you have already thought out your menu. What kind of different meals will you serve? Do you need multifunctional equipment? Think about all these types of questions and form a clear picture of your catering kitchen.
Tip two: Think carefully about the layout and installation beforehand.
When you make a layout of the kitchen on paper, you must ensure that it is feasible in terms of installation. So also start with an accurate inventory of the available space and all construction / breaking options. Perhaps architectural advice is needed? When designing, also take drainage and flow points into account. In addition, you naturally want your employees to be able to work as efficiently as possible. For this it is important that work tables and catering equipment are arranged in a logical manner. This is also called the routing. Create a logical route for your kitchen staff: from warehouse, preparation, preparation to washing up.
Tip three: Take hygiene, safety and ergonomics requirements into account.
During an inspection, the NVWA (Dutch Food and Consumer Product Safety Authority) will pay attention to hygiene, safety and ergonomics. In terms of hygiene, your kitchen spaces must be easy and quick to clean. Furthermore, safety must be considered, your employees must be able to perform their duties in a safe environment. For example, consider a non-slip floor. Finally, ergonomics are also important. Ensure that the countertops and catering equipment are at the correct height and that walking distances are limited.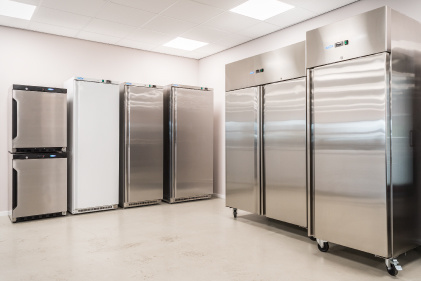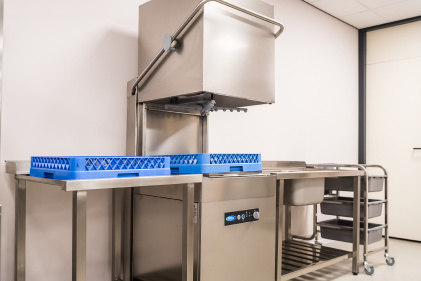 Tip four: For high-quality catering equipment, go to a professional supplier.
To purchase your high quality catering equipment you can best go to a supplier who knows this. In this way they can give you expert advice on what should not be missing in your professional kitchen and you can buy catering equipment that fits your concept, use, needs and wishes. Nowadays you can also purchase your new catering equipment online. You can call or email most webshops for advice. Choose a supplier with an extensive guarantee and good service, such as a technical service. This way you are easily and quickly helped with any defects. That makes your investment in hospitality equipment a real investment in the future of your company.
Tip five: Also consider leasing or buying used catering equipment.
Is professional design of your catering kitchen too large a spending? Then there are ways to still professionally organize your kitchen, but without that one very large edition. For example, instead of new catering equipment, you can buy second-hand catering equipment. Maxima, for example, offers various second-hand catering equipment. Furthermore, there is always the lease option, you "rent" the equipment for a certain contract period. You pay a fixed amount to the leasing company every month. You can lease operational with Maxima from as little as € 1500. Furthermore, with us you can also lease multiple products in one contract, so you can professionally organize your entire catering business on one contract.
Tip six: Set priorities and be the first to choose your indispensable catering equipment.
You need different components for your professional kitchen: from the baking wall, preparation and cooling to the kitchen. The right appliances differ from kitchen to kitchen, but there is equipment that is almost always indispensable for every professional kitchen:
> A baking wall with a cooking line, deep fryer and grill plate.
> Cutting devices, such as a vegetable cutter or a meat slicer.
> A professional oven, from baking ovens, hot air ovens to pizza ovens.
> Warming devices such as bain marie, a plate warmer, chafing dish, soup kettle, warming lamp or warming display case.
> Cooling, from refrigerators, bar cooler, refrigerated display cabinet, freezer, to many more cooling options.
> A commercial dishwasher and sink, preferably a sink with sink and a tap with flexible spray head.