Posted on
By Maxima Kitchen Equipment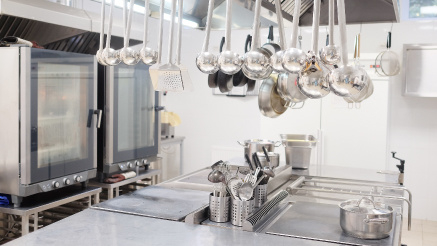 Whether you're looking for equipment for your start up restaurant, or you're looking for new additions to your kitchen's lineup, knowing what's hot goes a long way.
Kitchen equipment can, at times, feel like a never-ending list. With new and improved items cropping up all the time, it can be hard to know what is needed in your kitchen, and what you can leave out. Yet knowing this information could prevent you from wasting money on equipment your kitchen doesn't really need.
Here's a useful breakdown of some of the most popular restaurant equipment. Hopefully, with the help of this list, you'll gain an understanding of what popular kitchen equipment would make a helpful edition to your restaurant.

1.  Oven:
To kick things off, let's discuss the most essential item in every restaurant kitchen. I'm sure little needs to be said here – whether you're roasting or baking, the right oven is crucial to preparing delicious meals. Day in, day out, the oven will see a great deal of use, since it's a great way to roast meats for Sunday dinners or to prepare the perfect casserole.
A great majority of standard ovens today are convection-based. This means that heating elements are warmed through electrical power, with fans which distribute the air inside the oven. As a result, the air being blown about causes your finished product to come out perfectly cooked on all sides. Overall, along with preparing dishes which are evenly cooked, a convection oven is extremely versatile and thus ideal for cooking both savoury courses and sweet desserts.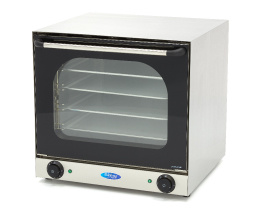 2.  Commercial grill:
It's not a kitchen without a good grill. Arguably one of the most prominent and frequently used pieces of equipment in any restaurant. Grilling is the application of dry heat, which transfers to the food through a process called thermal radiation. The end product being a crisp and aromatic flavour which grilled food acquire, and it's this which makes it such a popular cooking method.
This process of cooking is known as the maillard reaction, and it has been about since 1912. It's really a case of "if it's not broken don't fix it," as this chemical reaction still proves incredibly popular with customers choosing a grilled option to this day.
Whilst a one-sided grill can be effective, you'll need to be careful when deciding when to flip your food over, in order to ensure both sides are adequately cooked. At Maxima Kitchen Equipment, we sell the contact grill which eliminates this extra task.
Rather than simply grilling the one side, this innovative piece of equipment has two grilling plates which can go on below and above the food being cooked. This alternate option both speeds up the cooking process and grills your food perfectly on both sides.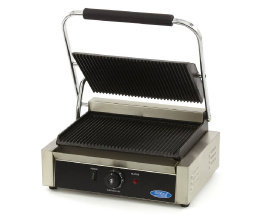 3.  Chef Knives:
I'm sure all seasoned chefs will agree that having the perfect set of knives is essential to efficient food preparation. Your kitchen is going to see its fair share of slicing and dicing throughout the years, so you're going to want the right knives for the job.
Knives are essential in any kitchen. This one is a little less subjective than others on this list as you'd do well to find a kitchen without them - they really have earned their place among the most popular kitchen equipment.
You're going to want to converse with your chefs when it comes to selecting knives. Since they're going to be the ones with their hands wrapped around them on a daily basis, you need to make sure you get a set their comfortable with, and which fit their needs.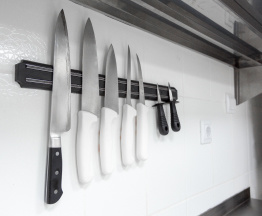 A couple of other things which see a great deal of use along with chefs' knives is the appropriate means of preserving and storing them. When it comes to preserving knives, either a 2 or 3 stage knife sharpener is a must item in any restaurant kitchen. Keeping knives sharp is both efficient and safe for your restaurant staff. Magnetic knife racks are an increasingly popular method of storage which allow you to avoid having sharp blades lying around on the side when not in use.

4.  Gas stove:
Modern stoves are a frequently used piece of equipment nowadays, and their advanced build quality means they're built to last. On top of this, a gas stovetop is a versatile addition to any kitchen which is capable of cooking a wide variety of dishes. A gas stove is popular for a wide variety of reasons. Something which makes it a more cost-efficient option than electric cooking appliance is the fact it doesn't use much electricity.
Whilst some require electricity to power the gas igniter and features such as a light, this is minimal in comparison to its electric counterpart. On balance, this could save you hundreds on your electricity bill. In addition, you can easily and quickly adjust the power of a gas oven – whereas an electric stove will take much longer to get hotter or cooler. The benefit here is that if you think a dish is getting burned, or not cooking quickly enough you can, in the moment, make appropriate adjustments to the temperature.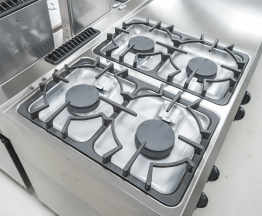 Speaking of temperature, a gas stove won't emit as much excess warmth into the environment around it. As opposed to electric cooking tops which allow heat to warm the environment around it as well, this could make an already hot environment much more uncomfortable. For these reasons, equipment such as the Maxima heavy duty cooker see a great deal of use in restaurant kitchens of all varieties.

5.  Chest freezer:
Every restaurant has the need for a freezer, when it comes to storing food and keeping it fresh and safe to eat, they are essential. As the name implies, this style of freezer unit is in the style of a large chest, with a lifting lid on the top. The chest freezer is able to store a large amount at any time, making it a great and accessible choice for putting a delivery away quickly.
Even if there's a walk-in fridge unit installed, a chest freezer offers that ease of access and can be positioned closer to the shop floor. This makes it a great and useful option for storing items to which you may need immediate access during a busy service, such as fries. So, depending on the size chosen, a chest freezer would see a great deal of use as either the primary or secondary freezing unit in any kitchen.
Another thing which makes this such a popular choice is the ability to add in optional hanging baskets or dividing walls. This means the chest freezer can be easily segregated into different sections, allowing you to keep meat and vegetable products separate, for example.
Maxima have a wide variety of these chest fridges available, ranging from 93 to 502 Litre capacity, so you can find the perfect size for your kitchen. Along with a handy variety of sizes available, these Horeca freezers come with an A+ energy rating making them a popular choice for restaurant owners.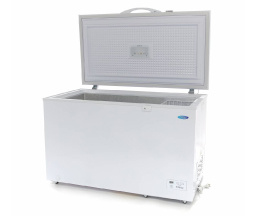 6.  Fryer:
The deep fryer has become a staple of the restaurant kitchen. This incredibly popular piece of equipment is both time-efficient and extremely versatile. This appliance works by heating a large tub of fat or oil, then submerging the desired food into this hot liquid in a metal basket.
Built for safety, the manner in which the oil or fat is heated means the oil is not exposed to any flames - eliminating what could be a potential fire risk. Secondly, the top of the fryer can be sealed with a lid to prevent oil jumping out or splashing and causing a burn.
The speed of this cooking device is certainly the key to its popularity. Thanks to thermodynamic laws, heat will transfer much quicker from hot liquid than it would from hot air, meaning your deep-fried dish can be ready to eat in a matter of minutes.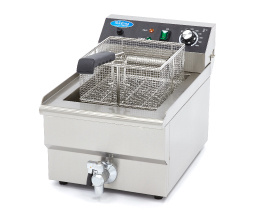 With this quick speed in mind, the deep fryer is the perfect choice for preparing side dishes such as fries or onion rings. Just put the basket down a few minutes before the main dish is cooked and you'll have a tasty set of fries ready to go out to the table with the main. Along with the speed it cooks at, a deep fat fryer is a popular choice because it seals the flavour in whilst cooking, making the final dish much more delicious.

7.  Combi steamer:
When it comes to cooking food practicality and efficiency there really isn't anything that compares to the usefulness of the combi steamer. This piece of kit ought to be at the heart of any restaurant kitchen, they're able to circulate either humid or dry air within them.
This means the combi steamer gives you the advantages of cooking with convection heat and cooking with steam, all in one. And this provides a speedy cooking time without missing out on the powerful flavour and crispiness. As this combines the advantages of many pieces of equipment, it's a great choice for any restaurant with a smaller sized kitchen unable to house a wide variety of tools.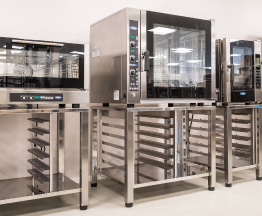 I'm sure you can already see where the combi steamer gets its well-earned popularity. The functions of this wondrous piece of equipment include grilling, roasting, baking, steaming and blanching. Due to its multiple functionalities, a combi steamer could be used to roast your chicken whilst simultaneously steaming the vegetables to go with it. This makes it a dream for any kitchen, gone are the days where you'd have to go back and forth between the oven and the hob.

8.  Drinks fridge:
How many times have you been served a can of your favourite soft drink at room temperature? While for some this may be a niche criticism, it really detracts from the refreshing flavour when drinks aren't properly chilled. That's why many restaurants chose to keep drinks and beverages chilled. Whilst it might mean slightly more effort on behalf of the owner, the results with regards to customer satisfaction are second to none.
Yet, whilst you could cool your drinks in a walk-in fridge, doing so could lead you to miss out on key sales opportunities. Having drinks stored away from your front of house or till area, means that customers won't be able to physically see them when making a purchase.
Whilst this may not seem like much, having that glimpse of a nice cool can of coke can tempt your guests into making that little extra purchase. This is where the bottle and can cooler get its popularity and usefulness. The opportunity to both showcase what drinks you have on offer, whilst at the same time keeping them chilled.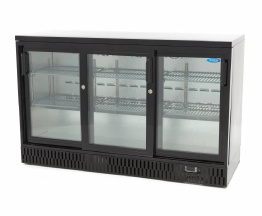 9. Griddle:
Another popular kitchen appliance is the griddle, this being a great modern alternative to the grill. If you're cooking a high quantity of meat products, this nifty piece of kit would certainly see a great deal of use in your kitchen.
"What is this griddle device" you ask? Essentially, it's a long flat heated surface, most typically these take the form of a metal plate. Here at maxima, we offer griddles powered by either gas or electricity. As you can imagine, this makes cooking meat items quick and easy. Items such as burgers are perhaps best prepared on a griddle. This hot surface can cook juicy burgers in a matter of minutes, and after cooking one batch the surface can be quickly cleaned and onto another.
It doesn't stop there - being the simple hot surface it is, a griddle is capable of cooking a wide variety of dishes. Be it eggs, hash brown potatoes or pancakes if you can cook it on a grill or in a pan then you can cook it on the griddle! Along with being a versatile piece of equipment capable of cooking a wide variety of items, another thing which gives the griddle its popularity is its accessibility and usability.
Cooking on a griddle is quick and straightforward, with little training requires - since they are very simple to operate. And, when using a griddle, you have a nice amount of room to move things around if you need to. This makes the griddle a cut above a regular pan which at times can be a bit of a squeeze to fit what you're cooking in.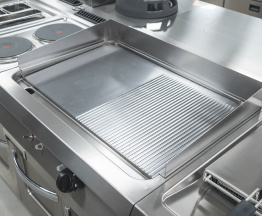 10.Sink:
I'm sure you're not surprised to find this on the list. The sink is undeniably one of the most essential and popular items in any kitchen. I'm sure you're already aware of the health and safety factor of having a sink installed in your kitchen, and yet many people overlook its extended practicality in the day to day running of the restaurant.
While this operates as a place your employees can wash their hands, having a proper sink installed alongside a commercial dishwasher comes with added benefits. For example, say something dirty was needed urgently without the time to load and use the dishwasher then it can be quickly washed off in the sink and ready to go in an instant.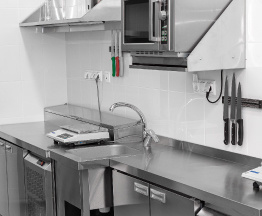 Conclusion:
There you have it, the top 10 most popular pieces of kitchen equipment. I have also given you some insight into why these items are some of the most popular pieces of kitchen equipment in use across restaurants worldwide.
Remember: when it comes to choosing the right equipment, what matters most is what your restaurant needs - hopefully this list has helped reveal whether these products are right for your kitchen.
At Maxima we have a great range of kitchen equipment for all restaurant needs, so have a browse and see if you can find a new addition to make your restaurant kitchen go the extra mile!